AnaBios Heart Tissue Sample Regions
| Aorta | Endocardium |
| --- | --- |
| Aortic Valve | Epicardium |
| Aortic Semilunar Valve | Mitral Valve |
| Ascend Coronary | Papillary |
| Atrium Appendage | Pulmonary Semilunar Valve |
| Atrium Trabecula | Septum |
| Atrium Wall | Sinoatrial Node |
| Bicuspid Valve | Subclavian Artery |
| Brachiocephalic Artery | Tricuspid Valve |
| Carotid Artery | Ventricle |
| Circumflex Artery | Ventricular Outflow Tract |
| Coronary | Ventricular Purkinje |
| Descend Coronary | Ventricular Trabecula |
TRANSLATIONAL RESEARCH PROMOTION FOR HUMAN HEART TISSUE
AnaBios has an archive of more than 9,000 high-quality human heart tissue samples. Until the end of 2023, AnaBios is offering highly-affordable pricing to facilitate translational research in academic, biotech and pharmaceutical laboratories.  
All archived AnaBios human tissue samples are $500, and are from both normal (healthy) donors and donors with known heart conditions, including cardiomyopathy and atrial fibrillation. To access our human heart tissue sample inventory, please complete the form below. Once you click the "Submit" button, your download will begin. If you have questions, please contact us at info@anabios.com.
ALL TISSUE SAMPLES – $500 EACH
ACCESS OUR HUMAN TISSUE INVENTORY
HUMAN HEART TISSUE SAMPLES
AnaBios utilizes proprietary technology that minimizes the ischemic breakdown process, preserving RNA integrity and improving tissue sample quality. This same process allows AnaBios to conduct physiological assays with live primary adult cardiomyocytes or ventricular trabeculae.
Heart tissue samples are recovered from both normal (healthy) donors and donors with medical conditions, including atrial fibrillation and heart failure.
Samples are stored, handled and shipped under optimal conditions to prevent degradation and ensure the highest quality possible.
Tissue samples are available from different regions of the heart, enabling cardiac researchers to study various aspects of heart function and disease.
CARDIAC RESEARCH WEBINARS
Human Ex Vivo Heart Models For Drug Discovery
Presented by Dr. Najah Abi-Gerges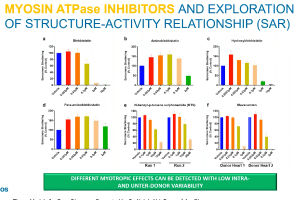 Dr. Najah Abi-Gerges, Vice President of Research & Development at AnaBios Corporation, presents this 30-minute video on the application of AnaBios' unique adult human ex-vivo models in supporting drug discovery programs. The webinar is moderated by Dr. Takashi Hayashi, AnaBios Director of Business Development in Japan. Dr. Abi-Gerges is the Editor for the Journal of Pharmacological and Toxicological Methods, and is also a reviewer for more than 20 peer-reviewed scientific journals and review judge panel for various science institutes and foundations. Dr. Abi-Gerges is co-chair of the ion channel group in the CiPA initiative.