ADULT HUMAN BRAIN TISSUE SAMPLES
AnaBios human tissue brain samples are the industry's gold standard biological reagent that provides the most comprehensive gene expression analysis for preclinical CNS drug discovery researchers engaged in target identification and localization. With consistently high RNA integrity numbers (RIN scores), AnaBios human tissue samples offer unmatched purity and consistency, allowing researchers to confidently study the complex workings of the brain with precision, accuracy and reliability.
Features:


High RNA Integrity Numbers (RIN scores) indicate the tissue's RNA molecules are intact and not degraded.
AnaBios brain tissue samples are recovered from both normal (healthy) donors and donors with diseases (I.e., Alzheimer's Disease).
The human tissue is processed and handled under optimal conditions using proprietary technology to prevent RNA degradation.
The samples are available from various regions of the brain, including hippocampus and cerebral cortex, enabling researchers to study different brain functions.
Benefits:


High RIN scores (average score 9 and higher) ensure that RNA molecules in the tissue sample are of high quality, thus enabling accurate analysis of gene expression and molecular function in the brain.
Using tissue from carefully selected human donors ensures that confounding variables such as underlying medical conditions or medication use does not affect research results.
Proprietary technology that allows for proper storage and handling of the tissue helps preserve its molecular integrity, which is essential for reliable,reproducible and biologically relevant research findings.
Availability of brain tissue from different areas allows scientists to study specific functions or diseases of interest, creating a deeper understanding of brain function and potential new treatments.
DOWNLOAD ANABIOS HUMAN BRAIN BROCHURE
*By Clicking On The "Submit" Button Above, You Are Agreeing To AnaBios'
Privacy Policy
.
IMAGES OF HUMAN BRAIN SAMPLES
HUMAN BRAIN TISSUE RECOVERY & PRESERVATION
AnaBios offers high quality human brain and other neurological tissue samples recovered via our proprietary methods. Tissue recovery may be customized to meet your specific experimental needs. We have developed unprecedented capabilities to recover viable human tissue samples consented for research. In addition, we rely on a vast network of US-based medical facilities and have developed proprietary solutions to preserve tissue viability.
AnaBios has more than 10 years of experience procuring ethically-sourced human tissue samples processed utilizing proprietary methods to maximize success in experimentation involving proteomics, metabolomics and gene expression analysis.
AnaBios offers normal and diseased human tissue samples. In addition, we provide demographic details, including sex, age, ethnicity, BMI and cause of death.
High-quality brain tissue samples are ideally suited for supporting neuroscience-related scientific research and drug discovery.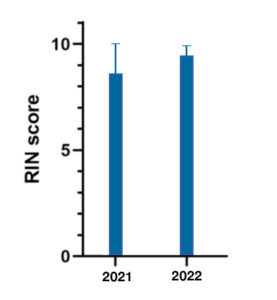 As demonstrated in the figure above, AnaBios provides human tissue with industry-leading quality as shown by the mean RIN scores (± SD) for tissue from 18 brains recovered in 2021-22. The RIN score for each brain tissue sample was consistently greater than 7, which is the threshold required for using RNA for measuring transcript levels. This score indicates that the RNA is intact and was not degraded during the tissue recovery process.
HUMAN BRAIN TISSUE APPLICATIONS
Preserved human brain tissue samples can be used to support proteomic and transcriptomic studies of the human brain. Brain samples are flash frozen, preserved in RNAlater or fixed by formalin- based solutions. These human tissue samples can be used for bulk RNA extraction, proteomic and expression analyses, or immunohistochemistry and immunocytochemistry.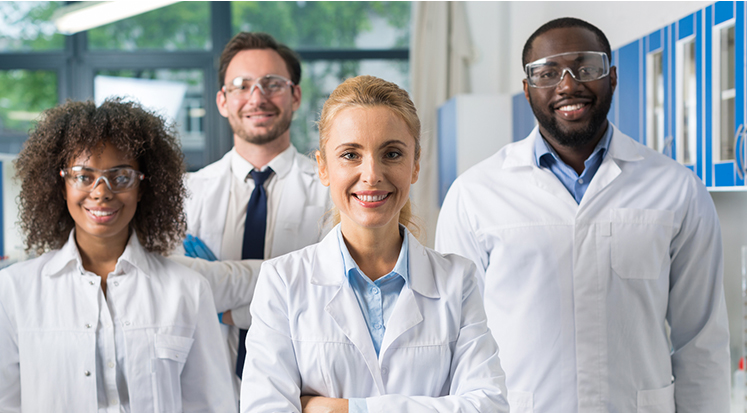 To inquire about products, services and pricing, please go to the 'Contact Us' page by clicking the button below.